Westinghouse brakes are used for both holding and stopping heavy loads. Common applications include hoists, conveyors, cranes and machine tools.
Type TM Brakes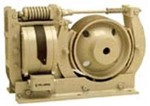 The Westinghouse Type TM brakes are known to be tough, reliable and capable of providing extended, trouble free service.
For many years Duke Brakes has been offering professional services and support towards the repair, maintenance and installation of all Type TM brakes. We also stock a wide variety of TM brake parts.
Navigate through the brake models on your left for part numbers and details.
Documentation
Products